Light Bulb Moment For Bryn Tirion Hall School
Date Published: 28/01/19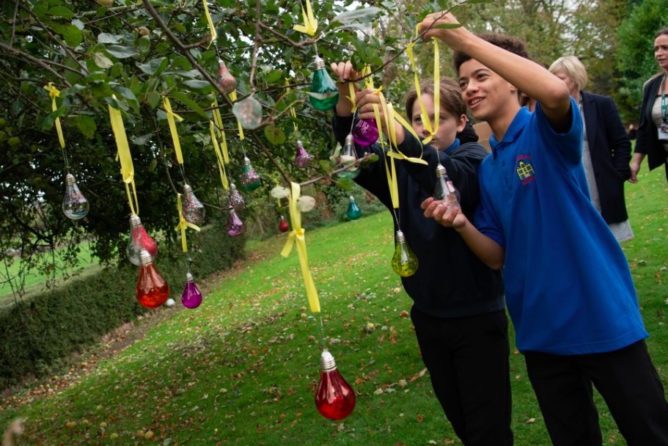 On Tuesday 23rd October, pupils and staff welcomed guests from the West Cheshire and North Wales Chamber of Commerce (WCNW) and took part in curating an outdoor art installation on the grounds of Bryn Tirion Hall School.
The event celebrated the first birthday of the innovative Young Chamber programme, of which Bryn Tirion Hall School was part of the pilot.
The outdoor #lightbulbmoment installation featured individually decorated plastic light bulbs, designed by the school's pupils, hanging from a tree in the schools' grounds. Each light bulb features words written by pupils, highlighting how the Chamber has individually inspired them.
The WCNW Young Chamber launched last year following a Chamber survey, which revealed that 88% of local employers didn't believe school leavers were 'work ready'. Its sole purpose is to help bridge the gap between businesses and the education sector to help prepare students for the workplace.
Here at Bryn Tirion Hall School we never underestimate the importance of connecting our young people with future employers and educating them of the changing career opportunities that are available to them.
As part of the programme pupils have taken part in an enterprise scheme to design and sell their own products – utilising the skills of the Young Chamber sponsors, including finance, marketing and project management, even presenting their achievements to local business leaders.
We're really proud of everyone who took part and we look forward to working in partnership with WCNW Young Chamber in the future.
Get in touch
Whether you're a parent or carer with an enquiry, or a specialist children's care or education professional wishing to make a referral, we'd love to hear from you. Simply complete the form below we'll be back in touch. If your message is regarding a referral one of the QEwC team will respond within 24 hours.