Young Chamber Visits Bryn Tirion Hall School
Date Published: 02/05/18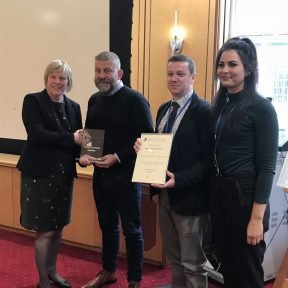 As part of the West Cheshire and North Wales Chamber's Young Chamber Programme our staff and pupils hosted a presentation morning to showcase their work so far in the 'Young Chamber Enterprise' project.
Pupils from the school attended a networking event at global company MoneyPenny earlier in the year, where they collected market research on a range of branded products, products included items such as pens, mugs and highlighters. They then relayed their findings and designs back to the Chamber, which then ordered the products to be printed.
These products were displayed and sold at the Chamber's networking lunch at Liverpool FC, which the pupils also attended. They were extremely excited to see the complete development of their products and even more pleased that all money made went directly back to the school, to support future learning and development initiatives.
Debbie Bryce, Deputy CEO at the WCNW Chamber, said: "The Young Chamber presentation morning was a superb way to recap on the project that the Bryn Tirion Hall School pupils had undertaken over the past few months. It is extremely rewarding to see how much they enjoyed being involved with the project and the progress that they have made along the way.
"I'm looking forward to our future Young Chamber projects and seeing how pupils can work closely with local businesses to develop further in their skills and personal growth."
Headteacher, Paddy Prendergast, added: "Our young people have really excelled themselves in this project and have created some fantastic products. The task required thorough research, creativity teamwork and also the bravery and confidence to attend professional workplaces and networking events.
"We couldn't be more proud of what they have achieved, their professional conduct and how they have developed their skills. They are a true credit to our school."
Get in touch
Whether you're a parent or carer with an enquiry, or a specialist children's care or education professional wishing to make a referral, we'd love to hear from you. Simply complete the form below we'll be back in touch. If your message is regarding a referral one of the QEwC team will respond within 24 hours.